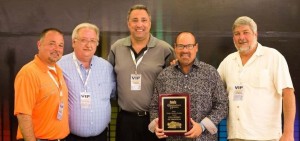 FREDONIA, NY – Owl Homes of Fredonia has been awarded the Commodore Homes 2015 Single Location Home Dealer Award by Commodore Homes of Pennsylvania.
The recipient of this annual award has sold more homes for Commodore in the Northeastern region of the
United States than any other dealer.
Commodore Regional Sales Manager, Jim Gentile, presented the award to Owl Homes of Fredonia Owner, Dominic Bellanti, and his sales team including Patrick Paradiso, Del Bowser
and Vinny Sherman.
Each year, the entire sales team from the company achieving this honor is awarded a trip to Mexico, where they receive their award.
"There is no harder working group of people than the sales team at Owl Homes of Fredonia. They
continue to exceed expectations and keep us on top," said Bellanti.
Owl Homes of Fredonia, one of the area's largest sources of manufactured and modular homes, has
performed installations across all eight counties of Western New York.
In business for nearly 50 years, Owl
Homes of Fredonia started out as a small mobile home dealer before expanding its product lines into single and
multi-family modular and manufactured homes.
For additional information visit:  owlhomeswny.com
716-673-1366   /   3752 E. Main St. Fredonia, NY 14063